Our team of medical professionals have an extensive practice based on the experiences of Israeli medicine and large medical centres such as the Tel Ha-Shomer, Assuta, Ihilov, Hadassah and Schneider Children's Hospital which are recognized throughout the world. All doctors of the Call4Life clinic are accredited to the American and European medical associations.
We are proud of the facts that we provide:
✓

A wide range of medical services

✓

High level of professionalism of our doctors

✓

High level of service

✓

Effective methods of diagnosis and treatment

✓

Low cost of medical services

✓

Extensive development in the field of e-Health
We use advanced methods of detection and treatment of diseases. Your treating doctor will have all the necessary information about your health, and organizes the work of other specialists, depending on the situation. This approach helps to eliminate a number of unforeseeable situations and allows us to work with you as quickly and effectively as possible. You will also receive all the necessary information. Our clients have tested the possibilities of e-Health medicine with the possibility of video consultations. This method proved to be very effective and in the past 3 years, we managed to transfer more than 75% of consultations to online regime.
If video consultation is insufficient, patients can make a personal visit to our clinic. The treating doctor will be provided with all necessary information in advanced. First, he will formulate you a detailed treatment plan and discuss all the important questions before your visit to Israel. In case of in-patient examination or complicated surgical intervention, we will hospitalize you in the shortest possible time to the partner hospitals – Assuta, Shiba or Meir. If you do not need a stationary treatment at the hospital, we will provide the necessary, but sufficient treatment and transfer you to an ambulatory treatment plan.
All the laboratory procedures, ultrasound, and electrocardiographic examination can be performed at the location of your choice, at the hotel, in the apartment or directly at the clinic.
We appreciate your time and money and we will save it! All our patients are guaranteed that they will always receive medical care at the highest level!
We also have partner clinics in other countries that serve our patients at a high level of service.
Sheba – Academic Medical Center Hospital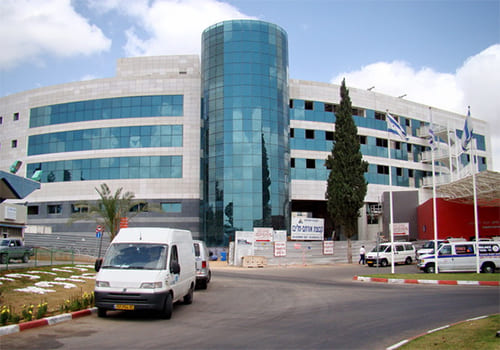 The State Center named after Heim Shiba is considered the largest medical institution in the Middle East. It is located near Tel Aviv in the city of Ramat Gan, Tel Hashomer district. Shiba center is a whole medical city by itself, consisting of 150 departments and clinics, which has 1990 hospital beds.
Working in the Tel Hah Shomer clinic is considered prestigious, and attracts the best Israeli specialists and from other countries. More than 1000 doctors and about 5,800 medical support personnel successfully treat thousands of patients every year.
More information about the clinic
The Shiba Center constantly improves knowledge and technology through active scientific and research activities.
The key areas of the Center's research are:
Heart disease -cardiology and hypertension;
Oncology and oncosurgery;
genetics and oncogenetics;
hemato-oncology;
neurology;
immunology;
epidemiology of malignant diseases and injuries;
regenerative medicine;
application of stem cells;
autoimmune diseases;
diabetes;
Alzheimer's disease and other neurodegenerative diseases.
The Shiba State Clinic provides opportunities for research and clinical experiments to the medical faculties of Tel Aviv and Bar-Ilan universities. The Weizmann Scientific Institute also operates laboratories of Shiba. Thanks to this interaction, more than a quarter of all medical innovations in Israel comes from Tel-ha-Shomer laboratories.
Special attention has been paid to the practice of treatment of oncological diseases, which is considered to be one of the best in the world. The introduction of modern protocols for the management of oncological diseases made Israel's medicine infamous throughout the world.
Due to serious scientific activities, Shiba Center is on the forefront of medical science and can provide high-quality treatment of diseases of any complexity. Even complex procedures using robotic surgeons and bone marrow transplants have become common procedures for the doctors of this clinic.
Assuta medical complex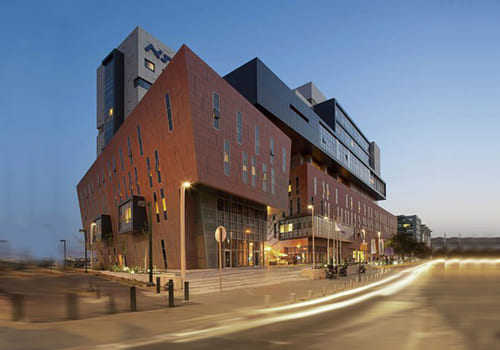 The private medical center of Assuta is one of the largest hospital in Israel which has become famous around the world thanks to highly qualified specialists and modern world class equipments. The center was constructed in 2009 and almost immediately gained recognition as one of the best surgical hospital in Israel.
At Assuta, there are 16 operation theaters, equipped with the latest technologies, 2 laboratories, department of visual diagnostics and a modern Institute of oncology, which is the largest in Israel.
According to the latest data, the whole network of Assuta hospitals performs about 13% of all surgical operations conducted in Israel, which accounts to almost 85 thousand annually.
More information about the clinic
Assuta is a private center, high level of attention is paid not only to quality treatment, but also to the services necessary for patients.
The following services are available at Assuta:
diagnostics;
oncology;
surgery;
neurosurgery;
orthopedics;
gynecology;
urology;
gastroenterology;
cardiology;
etc.
All Assuta specialists are highly recognized professionals who are known far beyond Israel. They apply modern methods of diagnostics and treatment, and are ready to take into account individual wishes of patients and constantly improve their level of knowledge.
Thanks to the comprehensive approach and consistent high quality of medical care, medical tourists from all over the world prefer to be treated at the hospital. An important feature of Assuta is the possibility of choosing a doctor, which is unavailable in many state owned hospitals.
Another unique factor of Assuta is the congregation of highly specialized groups of medical experts, who are able to solve the most difficult problems with maximum efficiency. Success is achieved through constant contact, mutual control and extensive personal experience of each and every individual specialist.
Soonchunhyang University Hospital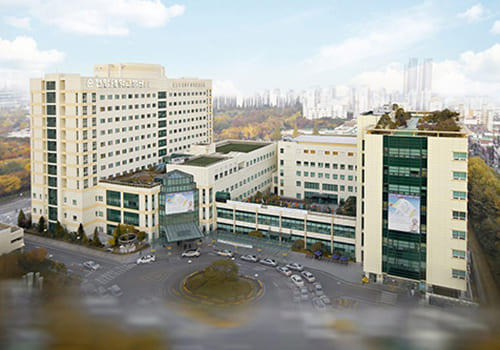 Soonchunhyang University Hospital is the first medical corporation in the Republic of Korea, established in 1974 on the basis of the Seoul Hospital at Soonchunhyang University. Now the network of 4 hospitals are located in different cities which successfully operate in the country. More than 600 professors practice in Soonchunhyang hospitals, 32 therapeutic and surgical departments, 16 specialized centers and 108 highly specialized clinics. The medical staff uses the latest equipment (PACS, WAMIS, TLAS, PET-CT, Multi-slice CT, 3.0T MRI, Tomotherapy), through which effective treatment is performed.
Each hospital provides a high quality of international standard medical service and care.
More information about the clinic
The network of university hospitals in Tomotherapy consists of several branches located in different cities of South Korea.
| | |
| --- | --- |
| SCH University Hospital Seoul | Seoul |
| SCH University Hospital Gumi | Gumi |
| SCH University Hospital Cheonan | Cheonan |
| SCH University Hospital | Bucheon |
Under the university hospitals, there are highly specialized departments, centers and clinics that provide medical services in various fields of medicine.
Diagnostics
For foreign citizens, the diagnostic center becomes the first step towards solving health problems.
At your service:
Free transfer from the airport with an interpreter;
Free interpretation services at the hospital;
Consultaion, treatment and rehabilitation plan;
Bookings and recommendations for hotel reservations;
Extension of time limits for seriously ill patients and visa support;
European cuisine;
Free Wi-Fi at the hospital;
Availability of comfortable apartments for patients requiring long-term treatment ( Payed separately).
The hospital has successfully completed several integrated research programs. In the absence of any obvious health problems, a basic diagnosis is sufficient, which is done to check the whole body for all possible risk factors.
If the problem is identified, but additional information is required, one of the detailed diagnostics is used:
Respiratory system;
Gastrointestinal organs;
Cardio-vascular system;
Nervous system.
The attending physician will decide upon the necessary detailed diagnostic program, since the facilities of the Soonchunhyang University Hospital allow for all necessary research.
Soonchunhyang University Hospital is chosen for combining the price and quality of high-tech methods of diagnosis and treatment. All hospitals are equipped with the most advanced technologies and are provided by highly qualified medical specialists. Non-invasive methods of research and treatment are widely used that allows the patient to recover quickly after the procedure.
Among foreigners the most popular centers and hospitals that have long earned world fame:
Center for Bariatric Surgery
Center for Bariatric Surgery of Soonchunhyang University Hospital is the best center for the treatment of obesity in Korea. The surgical department headed by Professor Yongjin Kim is the leading center in this area of medicine and has since earned world wide recognition. The clinic was visited by patients from New Zealand, USA, Paraguay, Central Asia and many other countries. In Korea, there is a new concept: "Obesity Operations = Soonchunhyang University Hospital." Professor Yongjin Kim has successfully performed more than 800 operations and is considered one of the best specialists in this field. He personally checks the progress of his patients with a system of monitoring.
Center for the Treatment of Breast Cancer
The Soonchunhyang Mammary Care Center is making efforts to diagnose breast cancer and benign breast tumors for the health and beauty of women. The head of the center is Minhiyuk Lee – the former head of KBCS. He is now recognized as one of the doctors who has made fundamental contributions to the treatment of breast cancer in Korea. Professor Jihiye Lee was educated at MD Anderson, a cancer center in the United States, and is currently the head of the center for breast cancer, benign breast tumors and thyroid disorders. The center for breast care, Soonchunhyang , performs operations on lumpectomy, lean skin mastectomy and direct breast reconstruction in 70% of his patients. In particular, the frequency of relapses after surgery is very low and is only 5%. Multi-academic collaboration on diagnosis and screening of women focus on the health and support of the breast, as well as the restoration of the female breast, through surgery.
Spine Treatment Center
The center was opened in April 2004 as a center for the treatment of the spinal disorders. The center provided treatment to more than 15,000 patients with spinal diseases and constantly uses modern equipment to minimize trauma and side effects.
Such types of treatment are recommended for patients after spondylodesis, inflammation of the spine, deformities of the spine, spinal tumors etc. In many cases operations are performed without a blood transfusion. The center successfully practices operations without blood transfusion with such concomitant diseases as pneumoconiosis, chronic renal failure. The Soonchunhyang Center for Treatment and Rehabilitation of the Spine performs operations only if there are indications, and does not recommend carrying out operations on the spine unless it is absolutely necessary for the patient.
Himchan hospital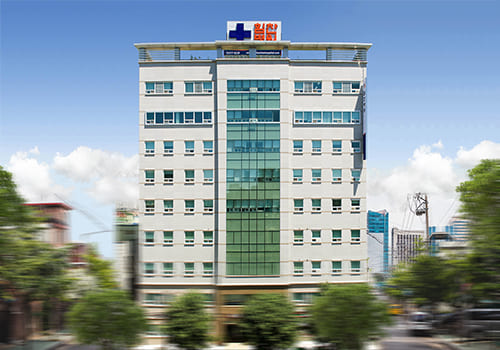 Himchan hospital was approved by the Ministry of Health and Social Services of the Republic of Korea as the main orthopedic medical center of the country. It is the largest specialized medical institution in terms of size, carrying out a full range of procedures: from professional diagnosis to rehabilitation after surgical intervention. Doctors of the Himchan hospital have developed a system for selecting individual treatment for the shoulder, hip and knee joints, problems of the spine and orthopedics of the foot, which has shown a high rate of efficiency.
More information about the clinic
To date, Himchan hospital is a network of hospitals consisting of 8 medical centers in the cities of Seoul, Incheon and Busan, specializing in the treatment of the spine and joints. The hospital has 1122 beds. The network of hospitals employs more than 100 doctors.
Himchan hospital is the leading orthopedic center of South Korea, which has received worldwide recognition both in scientific circles and among patients. The presence of a powerful diagnostic complex, attentive and professional doctors, modern equipment and promising methods of treatment makes it possible to solve problems of any complexity within the specificity of the hospital.
This center works in the following areas:
Orthopedics
Knee-joint;
Joints of the upper limbs;
Joints of lower limbs;
Hip joint;
Special diseases.
Neurosurgery
Diseases of the spinal vertebrae
Cervical spine diseases
Therapy
Heart diseases
Endocrine disorders
Digestive Disorders
In addition to classical surgical treatment, the Himchan hospital widely practices non-surgical and minimally invasive surgical methods.
Non-surgical methods:
Injection method (point injections of drugs that eliminate pain in a few minutes);
Decompression therapy (treatment of the selected spine with the procedure of dosed stretching and loosening of the load);
Strop therapy (strengthening of the muscular apparatus with a selected set of exercises).
Within the Himchan hospital there are several specialized centers:
Spine Treatment Center
Implant Implant Center
Cartilage regeneration center
Spine Treatment Center
Specialized clinic for the treatment of joints and spine
Clinic of sports injuries
Pediatric Orthopedics Clinic
Under the Himchan hospital center there is a scientific laboratory, which is engaged in advanced research in the field of orthopedics, neurology, arthritis and arthrosis. The result of which lead to the publication of more than 60 scientific papers, which received approval in a professional circles.
Decentralized global health network Well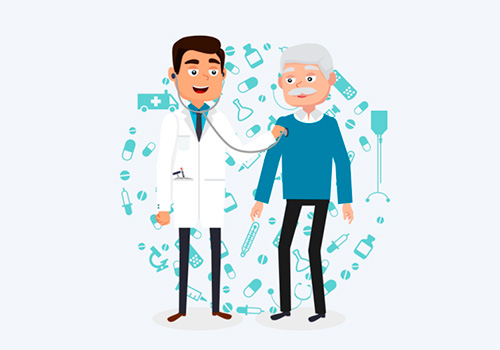 Well is a decentralized global healthcare network built on blockchain technology and smart contracts, the task of which is to provide direct communication between doctors and patients around the world. This service uses the algorithms of the popular Ethereum crypto currency to create Well tokens in order to save customers from problems related to international payments, access to data, risk of non-payment and defaulting. The activities of Well helped to make bilateral relations between the doctor and the patient comfortable and as transparent as possible.
Hospital of Vilnius University Santaros klinikos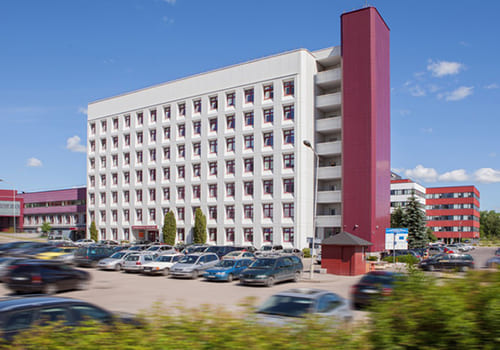 The Santaros hospital at the University of Vilnius is considered one of the largest hospitals in Lithuania and occupies a prominent place among the medical institutions of the entire Baltic region. It consists of 30 centers and 2 branches that provide all types of medical care.
The hospital employs more than 5300 people, of which 322 post doctoral scholars. Annually they conduct about 900 thousand consultations, provide clinical treatment for 91 thousand patients and perform over 50 thousand high-tech operations.
More information about the clinic
The most demanded services provided by the Santaros Hospital are:
Abdominal surgery;
Rehabilitation medicine;
Sports medicine for all ages;
Medical genetics;
Vascular reconstructive and Endovascular surgery;
Plastic and re-constructive surgery.
Particular attention is paid to interaction with colleagues from other countries and training their own doctors, for which all the necessary conditions are created. Specialists of the Santaros hospital gradually accumulate experience, raise their level of skill and service, which are noted by many medical tourists.
The clinic confidently performs complex operations such as heart, cornea, kidney, liver transplantation, as well as bone marrow transplantation from related and unrelated donors. The Santaros hospital is the leader in transplantion of tissues and organs in the country, conducting about 75% of all operations annually.
University Hospital HYKSin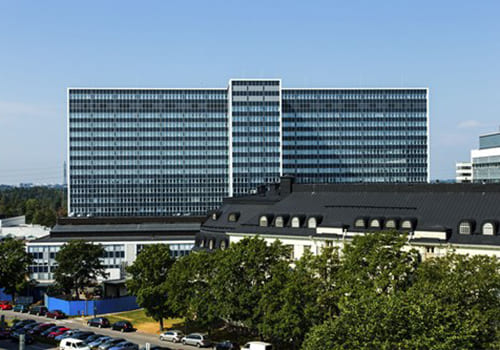 The Helsinki University Hospital is rightfully considered one of the best multi-disciplinary hospitals in Europe in terms of quality of care and level of service. A wide range of services are provided by 22 independent departments, whose services are used by more than half a million patients annually. The hospital has close ties within the medical community, active scientific activity, and productive methods of diagnosis and treatment. According to independent experts, these qualities are decisive for private patients and foreign medical tourists visiting the Helsinki University Hospital.
More information about the clinic
Multi-disciplinary and consistently high quality of medical services are provided by the high qualified medical personnel, the availability of modern equipment and the development of their own methods of treatment of diseases. Each of the 22 units is maintained according to European standards.
The most popular centers are:
Center for Cardiovascular Diseases;
Cancer center;
Neurosurgical center;
Ophthalmology centre;
Center for Thoracic Surgery;
Obstetric and gynecology Center;
Pediatric center.
Apollo Health & Lifestyle Limited (AHLL)
Apollo is one of the largest networks of multispecialty clinics in India. The brand was founded in 2002 to provide quality medical care at international level to every resident of the country. To achieve this goal, 61 clinics in India and 2 clinics in the Middle East have been set up using franchising model.
Apollo uses a comprehensive model of medical services, providing the possibility of preventive health check-ups, a full-fledged health diagnostics, doctor's consultation services and around the clock pharmacy, all under one roof. This approach has proved to be effective and now Apollo is looking forward about further expansion of its network.